Diving is definitely a hobby that falls in the "expensive" category. Seems every time I go to the dive shop for an air fill I spend a hundred bucks.
But there's one accessory that I bought recently that is a no brainer!
The Oceanic Personal Safety Device (P.S.D.), otherwise referred to as a "Signalling Tube".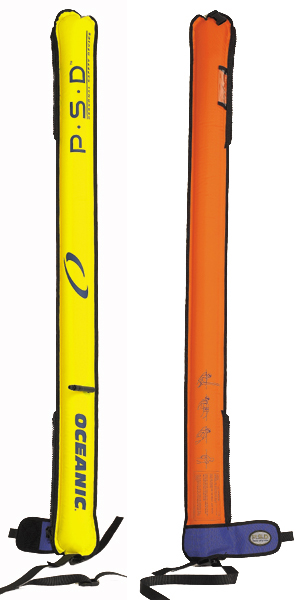 Buy Online
I was encouraged to buy a few month back, while doing my Rescue Diver training. You're supposed to have one incase you get stuck out in the water and you need to make yourself more visible for rescue services.
Sure you can get other emergency signaling tubes for about $10, where as this one costs about $40. But I was recently lucky enough to be snorkeling up at Lake Tahoe (not a dive trip at all) and I took my PSD with me. It worked great when my son and I were floating around in the water. We could use it to rest on, we hung our masks on it, I even used it as a lift bag at one point! I was snorkeling around and I saw a 5lb dive belt weight on the lake bed and I used my PSD to carry it back to shore, hence doing a bit of lake clean-up.
It's great that it rolls-up to the size of a coffee can, and it only takes two or three breaths to inflate, but it's buoyant enough to support 250plus pounds (based on our experience).
While a lot of your dive gear will costs you hundreds of dollars, this is something that costs just $40. It's a "safety" product, so it's not immediately sexy, but that fact that I could also use it to make a fun snorkeling trip safer and more stress free means it's one safety product that you can buy without thinking "This is something I don't want to buy, I'll never use it and I don't want to buy it, but I have to".